I would have to say that Julie Goodnight is my favorite clinician. She just has an easy going way and is very positive even if the people in her clinic or show are doing something completely wrong. I watch her show on RFD-TV and have seen her at the Rocky Mountain Expo, not this year but last year. I plan to go to one of her clinics that she'll have this year in Colorado. I won't be bringing Dani but just going to watch. It costs about $400 to do a clinic with your horse. Much better for my budget right now!
Recently on Facebook she had a picture contest for March. Each week we had to post an assigned photo. I was excited to find out that three of us won! We got our choice of DVD from Julies training library. I went with "Trail Solutions". I already have the bitting system and training DVD that I'll be starting shortly now that the weather is nice and the round pen isn't all mucky. This will be a great DVD to add to my collection!
The most recent Julie Goodnight newsletter had the three winners photographs for each week. I've posted mine below. What fun! I like little contests like these and Dani was such a good sport!
The first week the assignment was to post a picture of your horses home.
Then a picture of them wearing green
The next week was a picture of your horse eating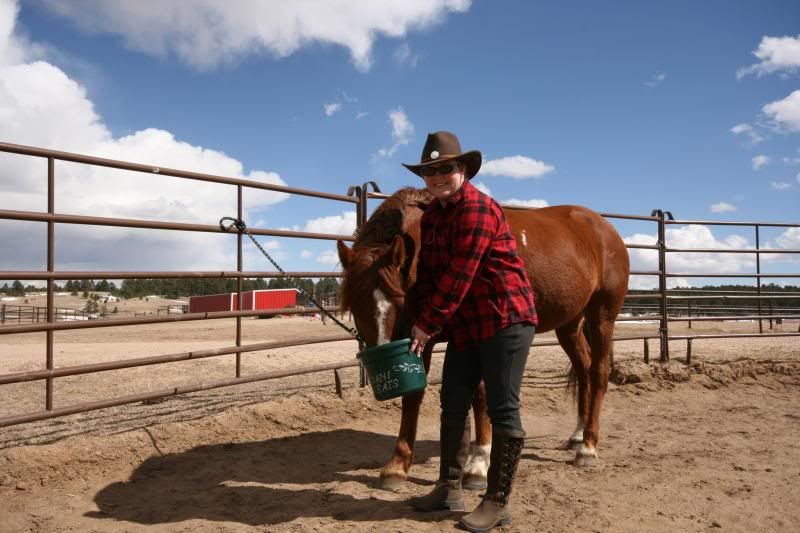 Lastly a photo of the horse and rider holding a note to Julie.
I sent an additional photo for this one since it was just too cute not to share!