A long while back I was asked to keep tabs on my costs for trailer renovation in comparison with newer models for a higher price. For this, I've only compared 3 horse slant bumper pull trailers with a front tack room.
The newer or new aluminum trailers can start in the low teens and go above $20,000. I like a lot of the aluminum trailers but from a horse perspective lots of openness makes a trailer more likable. A lot of the trailers have smaller windows that could potential create a claustrophobic environment. Someday a really nice aluminum trailer may be a good step up. They aren't maintenance free but they are less so than a steel trailer, weigh less but cost more....much more often. It's a pipe dream, I don't want to accrue that kind of debt at this time and in the future would be great to find a good deal on one and pay cash.
Some trailer windows are better than others if you go with the more stock combo style with a tack room. It gives a nice open feel to the horse, not so much the feeling of a trap.
Steel trailers have a broader price range. Calico has some bad reviews and I've priced newer ones from $7-9k. Ones only a few years old have rust already showing in many of the ads I've seen. Makes you wonder what corners have been cut in making them!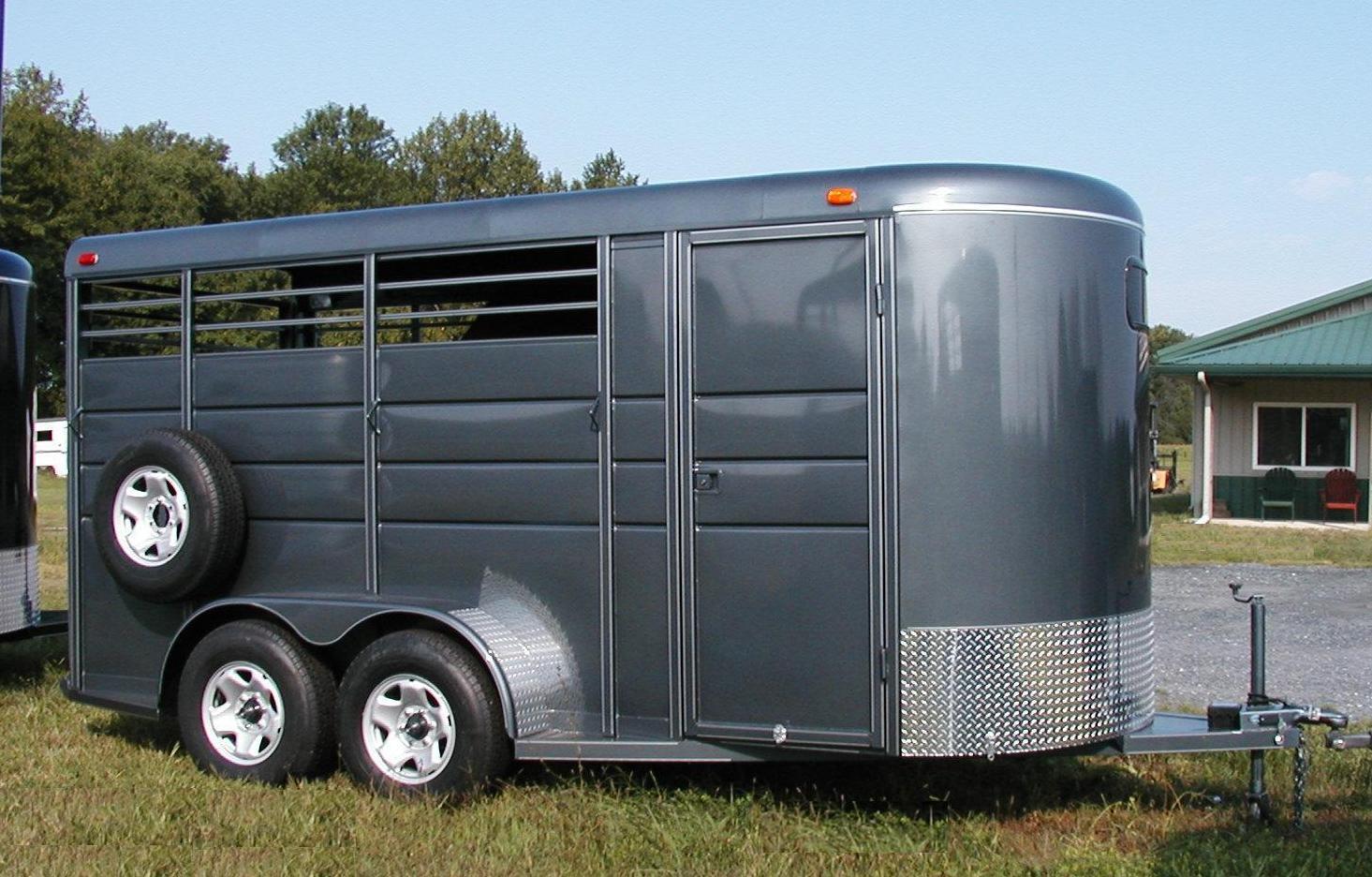 New Calico looks nice now....
There are several 4-6 year old trailers that I've seen for sale: prices around $4,995, $4,000, and $4500. All of them had a decent amount of rust started. A 1979 WW trailer, similar to mine was quite rusty and they were asking $3,200!! Check out this WW Trailer, almost the exact one as mine but it's a 2002 and they are asking $4,800:
Overall in good condition but rust starting in the usual areas and the trim/gravel guards
should be checked to make sure water doesn't seep into areas behind them
Rust is already beginning in the typical seam areas,
this needs to be arrested and sealed
Already a decent amount of rust starting on the tongue and front and the fenders. WW
doesn't have the best paint job so for longevity this trailer would need still need work
I don't see much improvement compared to my 1995 model. There would be so many additional protection measures I'd expect the newer trailer to have. I think I overpaid on mine, $2,500 but it had good bones and I haven't really put a ridiculous amount of work and $$ into to make buying a newer trailer more appealing, especially if these new trailers are already rusting within a couple years! Some makers charge more and hopefully that means they have treated the metal and used good paint to prevent the rust. Right now I didn't want to spend $15-20k on one of those.

Take an older trailer with good bones, put in some elbow grease and you probably have a trailer that is protected and will last longer than some of those new ones on the lot. That's just my two cents.
Maintenance for any trailer, aluminum or steel is a must! With mine I will regularly check for rust spot development, even pinhole sized, then treat, seal and paint. I will inspect all caulking to make sure no seepage occurs at the seams. I will sweep and clean the floor regularly and keep the mats off the wood for airflow, I will inspect the wood annually and replace boards as needed. Overall I feel my time working on the trailer has given me many insights:
*Familiarity with trailer construction
*Better sense of maintenance needs
*Security in knowing metal surfaces are well protected
*Understanding of what to REALLY look for in a trailer purchase
*Knowledge about all the various options you can have or add to a trailer
Granted this weekend is my last push to finish the horse area before snow temperatures drop and I can't paint still I love my trailer in it's almost complete state. I've calculated the additional paint I need to buy for the last paint job. The trailer is exactly what I wanted, a 3 horse slant, open stock/with dividers style with a tack room. It totally feels like all mine now and feels a bit custom in a way. Sure it's not fancy but it's mine, it's secure and safe and hopefully Dani will begin to love Rusty like I do!
Will I ever redo another trailer in the future??? Probably not, it takes a lot of time and I while had fun I'm pretty much done. There are other projects in my future. I'll save up for the big future trailer I may get someday but I have one now that will last a while and I'm pretty content.