Motivation is so lacking these days and I don't know what to do about it. Am I setting myself up to fail with putting too much expectation on myself? Shouldn't I be jumping up and down and wanting to see my horse every single second? I chalk it up to the winter blues in part and wishing she was in my backyard with a open window into my bedroom so she can "hang out" with me when I'm reading in bed. I'm becoming less and less happy with cold weather and it's honestly been mild just windy, I want to stay inside under a heated blanket than spend hours in the barn working on something I'm not 100% confident on how to work on! Even with the indoor arena I find the chill miserable. What's wrong with me?? Look at that cute face!!
I've gone to see Dani most days the past couple of weeks, I maybe didn't see her for two days in a row at most. I also didn't even do any "work" with her this weekend. Why? I'm tired, unmotivated in general and the weather in the evenings gets cold…not a good excuse! I haven't been to the gym myself in who knows how long because I can't seem to get myself out of bed in the mornings! I know my mare is happy and fine living her life in a big pasture with other friends, and gets looked at and cared for each day, that's the benefit of full board. I wish she was closer but there isn't a facility that is closer to my home that is what I consider a good option for board. Of course I'll keep my eyes open for one but I like Whispering Winds, I can't complain except for my proximity to it. Uge, I'm rambling. I just feel unmotivated in life in general. Don't know what my deal is but I need to change that!
In previous posts I mentioned that I would go home from work and then go to the barn, well that time slot doesn't work really well…especially since the husband has been home. It's hard for me to leave the time spent chilling with him to go see my little mare. I'd honestly rather just leave from work to get to the barn first thing at about 4:30pm and then get home around 6:30-7pm. But 4:30pm is right when the horses are being fed, so what am I to do? I wish I got off work earlier but I don't. I have a little hay net and used that once so Dani could snack while I groomed her but is this a good practice? I don't want her tummy grumbling and I feel she'll be in a better mood if I'm not completely taking her away from her meal. I don't have time to work her each evening for very long so it's not like all the blood will be leaving her stomach to go to muscles and potentially cause issues with her GI system. The other thing is that she gets only hay in the evenings. Her supplement, which is vitamins and a handful of grain to mix, is fed in the morning. I really just need to go when it's best for me or I won't go at all!! Like I said I don't have time to "really" work on things when I get out there so I should just go and work on tiny things when I go. I need to get better about this and know that I don't have to go every day, if I can make it out certain days of the week to start that will be good. Small changes!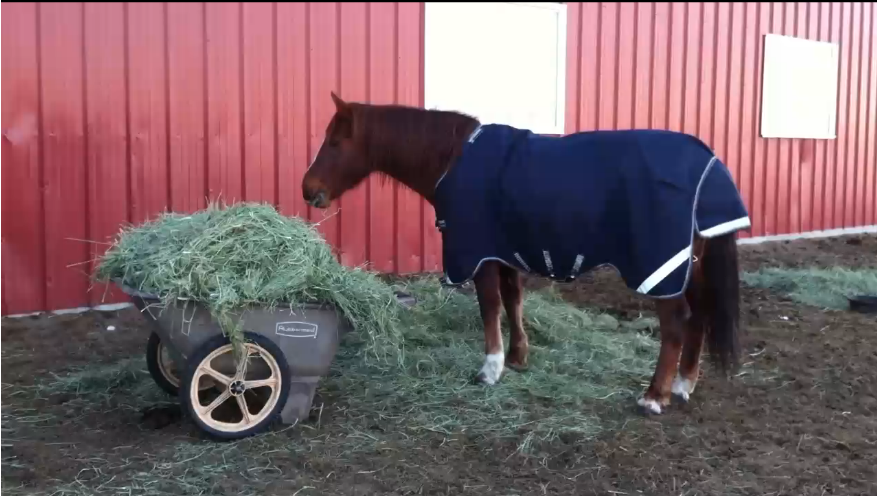 Now as to the gym…I need a cattle-prod alarm clock! Anyone have an idea where I can get one of those?